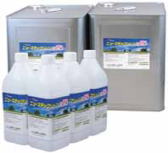 Cleaner and Conditioner for Continuous Dampening Rollers
<Eco-friendly product>
New Maticlean Eco quickly removes ink build-up on dampening rollers and applies hydrophilicity to the roller surface at the same time. Therefore, the water supply of the continuous dampening rollers will be stable and prevents uneven water supply at the start-up of printing.
This product contains no poisonous or dangerous substances restricted by the Worker Safety and Sanitation Law and Pollutant Release and Transfer Register Law in Japan.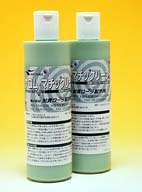 Cleaner for Chrome Rollers in the Dampening unit
<Eco-friendly product>
Resinous elements adhering to the surface of chrome rollers can be removed through the chemical action of the cleaner and the physical action of the minute particles contained in this product. At the same time, Matichrome applies hydrophilicity to the Chrome rollers, which solves the problem of ink build-up to the metering or the water fountain rubber rollers and provides consistent water transfer.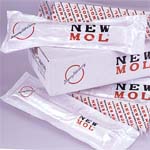 Dampening Roller Cover for Offset Printing
New Mol has an excellent water absorption property with no fluff stripping, which enables no white spotting on the print. New Mol is hard-to-stain and easy-to-clean, having very long life.
Applicable rubber roller diameter : Ф120mm-20mm
Applicable rubber roller surface length : 1550mm-300mm
Please check the instruction/manual before use.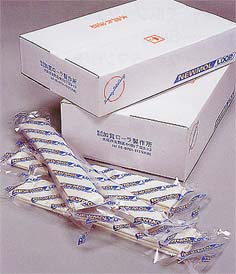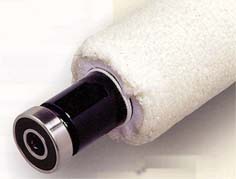 Dampening Roller Cover for Offset Printing (Loop type)
New Mol Loop is a loop type dampening roller cover made based on the world-class technology of New Mol. It is designed to have less initial fluffing and better durability.
| No. | Rubber roller diameter | Code | Length |
| --- | --- | --- | --- |
| LP40 | 74-64mm | # 600 | 600mm |
| LP50 | 64-55mm | # 700 | 700mm |
| LP55 | 55-50mm | # 800 | 800mm |
| LP60 | 50-44mm | # 900 | 900mm |
| LP65 | 44-38mm | #1000 | 1000mm |
| LP70 | 38-34mm | #1100 | 1100mm |
| LP80 | 34-27mm | #1200 | 1200mm |
Please check the instruction/manual before use.