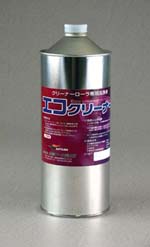 Roller wash for Cleaner rollers
Eco Cleaner can be used for cleaning all types Cleaner Rollers such as IIR, EPDM, Silicone, NBR and etc.
Eco Cleaner is a safe product which complies with the Japanese Occupational Health and Safety Law.
Eco Cleaner has a better cleaning property compared to our conventional wash "Cleaner Liquid" and "Liquid 8".
Drying property after cleaning is also better compared to Liquid 8 which enables less down time.
Eco Cleaner recovers the stickiness of the Cleaner Rollers.