Generally, Ink Ductor Rollers in web presses are easily worn because its irregular operation forces great stress to the rubber. This causes cracks and burst on the ends in a short period of use. WBD30 has excellent surface strength and shock absorption property. Problems such as cracking shown above will be greatly improved.
No tearing or breaking of the rubber because WBD30 has higher tensile strength and mechanical strength compared to a conventional roller.
Great shock absorption property due to smaller impact resilience of the rubber compared to a conventional roller.
Excellent abrasion resistance compared to a conventional roller.
※Hardness 30 Shore A
※Color:Black
【WBD30】
After 2.5 years (24 hours operation)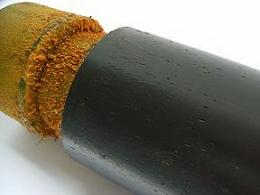 【Conventional】
After 3 months (24 hours operation)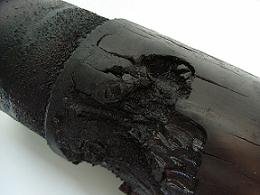 How to maintenance
Clean with aliphatic solvents such as kerosene or with a reliable cleaner. ( Use of our [ROYAL CLEAN UV PLUS] or [NEW ROYAL CLEAN] series is highly recommended )
Clean the rollers at least once a day.
* Do not clean the rubber with polar solvents such as MEK or chlorinated solvents such as Trichloroethylene.