In addition to the rubber quality, the quality of the roller core is also very important for the uses under various conditions.
That is, unsuitable material and structure could cause serious problems.
Generally, steel tubing is used as a material but for special purposes, materials such as stainless steel, aluminum and plastic are also being used.
CFRP (Carbon Fiber Reinforced Plastics) cores are also widely recognized for some special purposes such as a light weight requirement. (Please refer to our CFRP brochure for more information)
Roller core structures are different depending on the usage condition. Please consult our sales staffs.
Representative structures are as follows;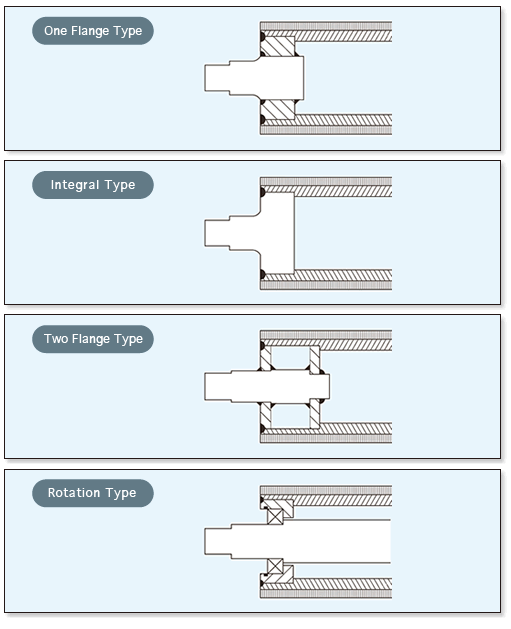 Roller core materials
Metal is generally being used for roller cores.
Appropriate materials must be chosen to fully enjoy the best performance of the roller.
The following table shows the representative materials of shafts, flanges and cylinders;
Shaft
Flange
Cylinder
●Carbon Tool Steel
●Stainless Steel
●Chromium Molybdenum steel
●Alloy Tool Steel
●Aluminum
●General Purpose Rolling Steel
●Stainless Steel

●Aluminum
●Stainless Steel Tubing
●CarbonSteelPipes for Ordinary Piping (SGP)
●Carbon Steel Material (STKM13A,STPG,SGP,etc)
●CFRP pipe

Roller Balance
As machinery is constantly being improved to make the operation faster, the problems due to the roller unbalance increases. For example, vibration, noise, premature wearing down of the bearings, cores, gears, premature damage of the rubber roller and machinery itself, etc....
These problems arise because of the rapid increase in the centrifugal force due to the unbalance of the roller, as the roller revolution speed increases.
Katsura employs the following methods to adjust the unbalance;
(1).Static Balance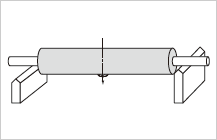 Static balance shows the evenness of load distribution of the roller component. The balance is checked by seeing if the roller moves on the sharp edges as shown in the sketch below. Correction is made by adding weight to the lighter side or lightening the heavier side.
(2).Dynamic Balance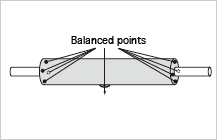 Dynamic Balance is measured to make the roller rotate. The unbalanced weight is described as centrifugal force which results in the roller swinging in a certain direction.
To correct the dynamic balance, the roller surface is divided into 360 equal parts and weight adjustments are made at the positions where the unbalance is exerted.
Other points to note
| | |
| --- | --- |
| (1) | Cylinder surface is processed in different ways depending on the bonding method |
| | 1.For bonding with Ebonite: Screw cutting of 12-14 angles/25mm, 0.5mm depth |
| | 2.or bonding with Adhesive agent: Hale finishing |
| | |
| --- | --- |
| (2) | Rollers over 200mm in diameter require 5mm or bigger hole through the flanges on both sides to enhance vulcanizing efficiency. |
(3)
Roller balance is considerably significant. We carry out the static balancing for the roller cores that we supply depending on the applications. However, the dynamic balancing is not carried out unless otherwise instructed by the users.
need balancing in high-speed runs and inform below points;
・Number of rotations of the roller ・Desired balance weight (g)

| | |
| --- | --- |
| Generally | G6.3(Balance Grade) for rollers for film and paper industries (less than 400m / min) |
| | G2.5(Balance Grade) for high revolution rollers (400 - 1500m / min) |