Compared to conventional inks, soy oil based inks more likely gives harmful effects to rubber rollers such as hardness increase, rubber shrinkage and so on. As a result, operator would have to adjust the nip-width often and the lifetime of the rubber roller would also become shorter.
SIGMA SOYovercomes such problems so that operators can comfortably handle inking rollers with soy based inks.
SIGMA SOY, having high resistance to Soy oil based inks, has minimal changes in dimension and hardness even after a long term use.
Hardness increase of rubber surface is minimal and is difficult to get glazed.
Excellent physical properties prevent hangnails on the rubber surface even in an application of ink doctor rollers for web.
SIGMA SOY has minimal heat buildup. Therefore, nip-width change is minimal even in high speed runs, providing stable ink transferability.
SIGMA SOY is applicable for both sheet fed and web but its remarkable effect is shown especially on web.
* Hardness (Shore A): 25・30・35・40
* Color: Orange
5g sample rubber piece is immersed into a soy based ink. Then, its weight is measured every certain period.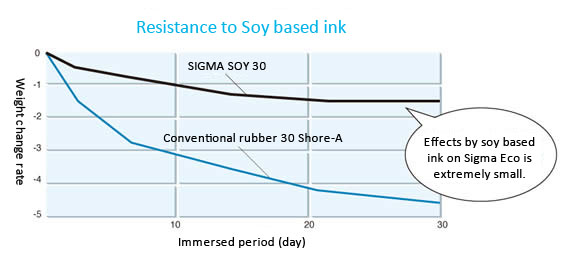 (Based on diameter change and nip width)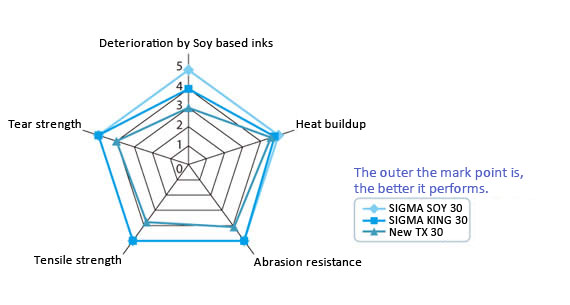 How to maintenance
Clean with aliphatic solvents such as kerosene or with a reliable cleaner.
( Use with our [ROYAL CLEAN UV PLUS] or [NEW ROYAL CLEAN] series is highly recommended )
Clean the rollers at least once a day.
* Do not clean the rubber with polar solvents such as MEK or chlorinated solvents such as Trichloroethylene.