Improved durability (cost-saving)
EcoMax has resistance to Eco-friendly inks such as vegetable oil based inks which usually deteriorate rubber rollers in the way of rubber shrinkage and hardness increase.
Also, improved rubber strength prevents glazing and hangnails on the rubber ends.
Ink stability in the press
Compared to conventional rubbers, inks on newly installed rollers are more stable. Even during printing which needs to minimize ink amount, e.g. a line printing, it provides stable printing without troubles caused by insufficient ink transfer or insufficient ink flow.
Great performance in high speed runs
EcoMax has minimal heat buildup property even in the higher speed runs in sheet-fed and web. Because the nip width and ink viscosity are not affected by heat, it enables stable printing in high speed.
* Hardness (Shore A): 25・30・35・40・50・60
* Color: Dark Blue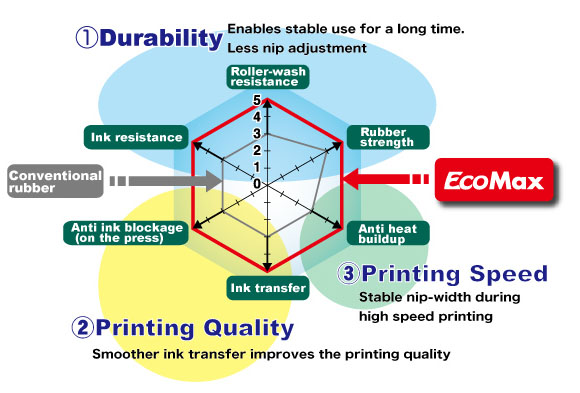 How to maintenance
Clean with aliphatic solvents such as kerosene or with a reliable cleaner.
(Use with our [ROYAL CLEAN UV PLUS] or [NEW ROYAL CLEAN] series is highly recommended)
Clean the rollers at least once a day.
* Do not clean the rubber with polar solvents such as MEK or chlorinated solvents such as Trichloroethylene.