1.Improved ink transferability
Comparing to our conventional UV rubber, Avant UV is designed to have higher impact resilience which improves efficiency of kneading of inks and ink transfer.
* Ink transfer comparison (Close up picture x25)
| | | |
| --- | --- | --- |
| | | |
| AVANT UV | Conventional Rubber | Other company's rubber |
As shown above, white spots are not seen with AVANT UV. AVANT UV provides excellent ink transfer in order to achieve high quality printing.
2.Significantly Improved rubber deterioration resistance
AVANT UV has minimal heat buildup, which prevents hardness decrease and increase of stickiness that are often seen for resin rollers in high speed, long runs.
The Enforced Hydrolysis Test at 50 degrees Celsius below shows that AVANT UV has extremely small deterioration.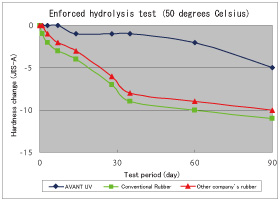 The Dynamic Heat Buildup Test below shows that AVANT UV has less heat buildup compared to the conventional rubber.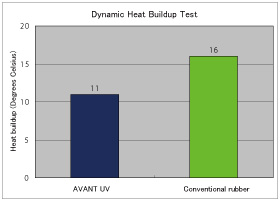 3.Very easy to clean
Compared to the conventional resin rollers, roller cleaning time can be saved for AVANT UV as it has superior resistance to cleaning solvents and its roller surface is designed to be easy-to-clean.
| | | |
| --- | --- | --- |
| AVANT UV | | AVANT UV |
| | Cleaned after ink apply | |
| Before use | | Almost no ink remained |
AVANT UV is very easy to clean.
| | | |
| --- | --- | --- |
| Conventional product | | Conventional product |
| | Cleaned after ink apply | |
| Before use | | Ink remained |
4.Stable ink condition on the rollers
AVANT UV is designed especially for use in UV printing. Printing defect can be minimized due to the improved anti ink blockage property and ink dryness on the roller surface.
5.Stable nip width
As AVANT UV has excellent UV ink resistance, it shows minimal nip change with UV inks. It is very stable for extended periods.
6.No need of trial run
Even when you install a brand new Avant UV or switching ink from UV to Conventional, you don't need to take time for a break-in operation which conventional rubber needed. You can start printing right away after installation.
* Application: Offset printing, Label printing, Business form printing, Metal printing etc.
* Hardness (Shore A): 15・20・25・30・35・40・50・55・60
* Color: Light Blue
How to maintenance
Clean with aliphatic solvents such as kerosene or with a reliable cleaner.
(Use with our [ROYAL CLEAN UV PLUS] or [NEW ROYAL CLEAN] series is highly recommended)
Clean the rollers at least once a day.
* Do not clean the rubber with polar solvents such as MEK or chlorinated solvents such as Trichloroethylene.