We have succeeded in achieving minimum dimensional change with NPW50 which will keep the operator away from nip adjustment operations.
You will also achieve stable printing quality with very less contamination on the roller surface.
This will also lead to saving of waste papers.
NPW50 is the solution to high quality printing, work saving and cost saving.
Features

Double layered structure (Special rubber on the top layer)
Resistant to inks and solvents. Changes in diameter and hardness are very small that it can maintain the appropriate nip width for a long time.
Prevents ink buildup and accumulation of paper particles. Initial rubber surface property is maintained for a long time.
Above features provide; a) Improvement on printing quality b) Saving of paper waste by reduction of printing failure. c) Reduction of roller maintenance jobs such as nip adjustment and roller cleaning.
* Hardness (Shore A): 50
* Color: Dark Blue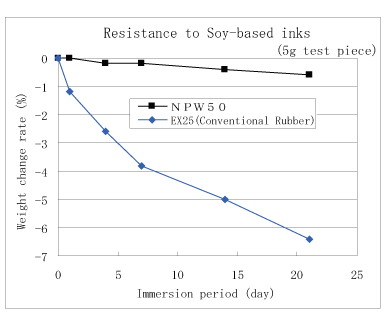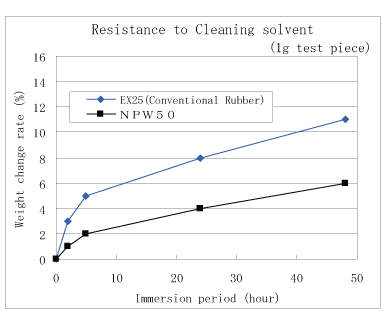 A cubic test piece is immersed into an ink or a cleaning solvent. Then, the weight of the sample is measured every certain period.
How to maintenance
Do not clean the rubber with polar solvents such as MEK or chlorinated solvents.
We recommend our [ NEW MATICLEAN ECO ] for cleaning. It applies the hydrophilicity to the roller which offers stable water supply for a long time.