Concave roller
Wrinkle spreader roller for films
Features
(1) Wrinkles during film production
A number of rollers installed are used in the film manufacturing and converting machine. But if the rollers are not aligned properly, there will be tension gaps in the width direction and causes wavy wrinkles in oblique directions.
Also, thinner films that are trending nowadays are more likely to have wavy wrinkles in parallel direction to the running direction if the feed tension is set similar to the thicker films. Such wrinkles often cause creases while passing through the rollers and this greatly decreases the value of the product.
(2) Reduction of wrinkles by using Concave roller
Concave roller is an inverted crown-shaped roller, having narrow center and thicker ends.
Compared with the center part, the circumferential velocity becomes faster as it goes to the end due to the difference in outer diameter. Film tends to move toward the edge with a high circumferential velocity and approach the downstream roller at a right angle. These two properties can spread the film and reduce wrinkles.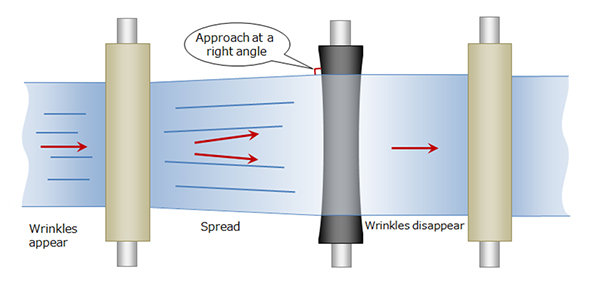 (3) Reducing Film Wrinkle by Concave Roller (Video)
Setting the amount of concave
Please inform the following details when setting the amount of concave to offer the suitable one.
Roller size
Distance between pass and upstream roller
Base material width
Widening amount of the base material (how much you would like to stretch)
We can design either rubber rollers or metal rollers and propose a suitable installation location from the roller layout drawing.
Please contact us for more information.